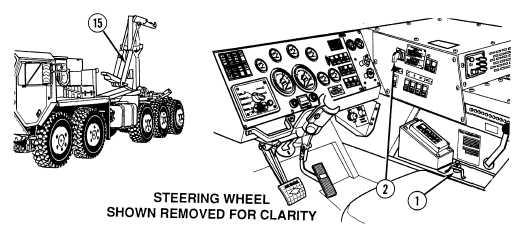 TM 9-2320-364-10
2-282     
2-29.  LOAD HANDLING SYSTEM (LHS) (CONT).
Engine speed must be at idle before using hydraulic selector
switch, or damage to equipment may result.
(17)
Turn the hydraulic selector switch (2) to MAN H.A.
(18)
Hold the joystick (1) in LOAD position until the hook arm cylinders (15)
are fully retracted.
(19)
Release joystick (1).
Never drive with NO TRANS light illuminated. An
illuminated lights means LHS is not fully stowed.  The load
could break loose causing serious injury or death to personnel.
Hydraulic selector switch must remain in MAN TRANS while
truck is traveling or hydraulic system will overheat.
(20)
Turn hydraulic selector switch (2) to MAN TRANS.