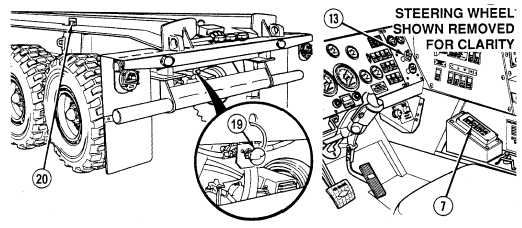 TM 9-2320-364-10
2-284     
2-29.  LOAD HANDLING SYSTEM (LHS) (CONT).
(2)
Apply parking brakes (13) and set transmission range selector (7) to
Neutral (N).
·
When operating PLS truck with PLS trailer, the heaviest loaded
flatrack must always be placed on the truck, otherwise adverse
handling and/or braking may result, causing injury or death to
personnel.
·
Ensure trailer air system is charged before beginning transfer, or
flatrack locks may not properly engage.  Serious injury or death
could result to personnel.
There must be sufficient air pressure in trailer air system to
retract flatrack locks or damage to flatrack locks can occur
while attempting to load flatrack on trailer.  If not, use truck to
charge trailer air system using trailer air charging hose.  If air
system cannot retract flatrack locks, use manual flatrack lock
retract procedure (TM 9-2330-385-14).
(3)
Push in on knob (19) and retract flatrack locks (20) on trailer.