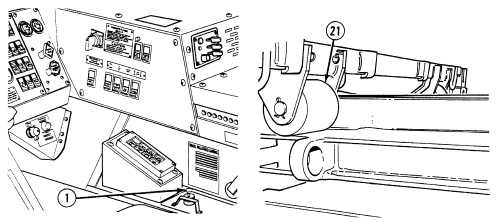 TM 9-2320-364-10
2-286     
2-29.  LOAD HANDLING SYSTEM (LHS) (CONT).
·
When loading or unloading flatracks on uneven ground (side
slope or downgrades up to 10 degrees) it may be necessary to
apply truck service brakes to prevent truck roll away or severe
injury or death could result.
·
Check for overhead power lines or other obstructions before
attempting LHS operation.  LHS reaches a height of 17 ft. 2 in.
(5.22 m) with ISO container.  Serious injury or death could
result from contact with electrical power lines.
·
Trailer wheels must be chocked during transfer operations or
serious injury or death could result.
·
Load must be evenly distributed on flatrack.  Uneven load
distribution may cause LHS Overload indicator to give false
signals and cause LHS to operate incorrectly.
·
Ensure rail transport locking pins are disengaged before
unloading flatrack.  Rail transport locking pins are used for rail
transport only.  Failure to comply may result in damage to
equipment.