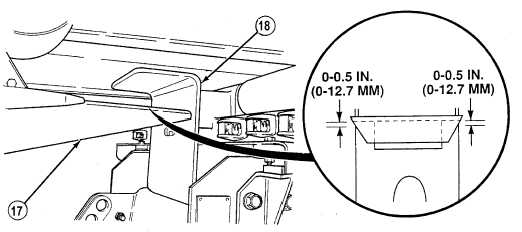 TM 9-2320-364-10
2-300     
2-29.  LOAD HANDLING SYSTEM (LHS) (CONT).
h.
Transfer of Flatrack to Trailer in Manual Mode.
Trailer wheels must be chocked during transfer operations or
serious injury or death could result.
·
Ensure that trailer drawbar is down against the ground during
transfer operations or damage to equipment may result.
·
Ensure air lines and cables are properly stowed to prevent
damage to equipment (TM 9-2330-385-14).
·
Both of the trailer bumper points must be under the truck
bumper stop flange and at least one of the bumper points must
contact the bumper stop.  The trailer bumper point not
contacting the truck bumper stop cannot exceed 0.5 in.
(12.7 mm) or flatrack will miss main rail guides and equipment
damage may result.
(1)
Back up the truck so that trailer bumper (17) is under flange and contacts
truck bumper stop (18).