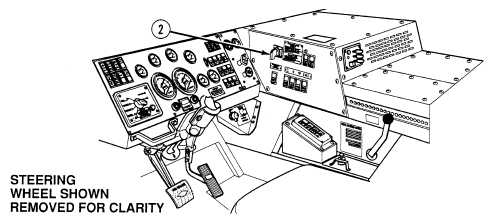 TM 9-2320-364-10
2-302     
2-29.  LOAD HANDLING SYSTEM (LHS) (CONT).
·
Engine speed must be at idle before using hydraulic selector
switch or damage to equipment may result.
·
Load must be evenly distributed on flatrack pallet.  Uneven load
distribution may cause LHS Overload indicator to give false
signals and cause LHS to operate incorrectly.
NOTE
The time to load and unload is controlled by engine speed.
Engine speed can be increased to approximately 1500 rpm
to reduce loading and unloading times.
(4)
Turn the hydraulic selector switch (2) to MAN H.A.