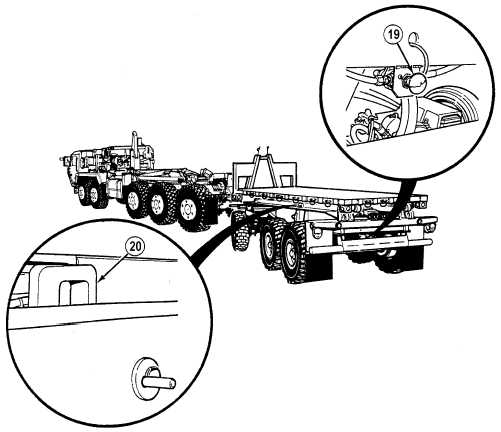 TM 9-2320-364-10
2-313
i.
Removing Flatrack From Trailer in Manual Mode.
·
There must be sufficient air pressure in trailer air system to
retract flatrack locks or damage to flatrack lock can occur while
attempting to remove flatrack from trailer.  If not, use truck to
charge trailer air system using trailer air charging hose.  If air
system cannot retract flatrack locks, use manual flatrack lock
retract procedure (TM 9-2330-385-14).
·
Ensure air lines and cables are properly stowed to prevent
damage to equipment (TM 9-2330-385-14).
·
Ensure that trailer drawbar is down against the ground during
transfer operations or damage to equipment may result.
(1)
Push the knob (19) on trailer to retract flatrack locks (20).