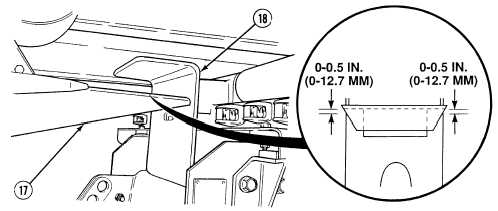 TM 9-2320-364-10
2-318     
2-29.  LOAD HANDLING SYSTEM (LHS) (CONT).
·
Ensure that trailer drawbar is down against the ground or
damage to equipment may result.
·
Both of the trailer bumper points must be under the truck
bumper stop flange and at least one of the bumper points must
contact the bumper stop.  The trailer bumper point not
contacting the truck bumper stop cannot exceed 0.5 in.
(12.7 mm) or flatrack will miss main rail guides and equipment
damage may result.
(11)
Check that trailer bumper (17) is under flange of truck bumper stop (18).