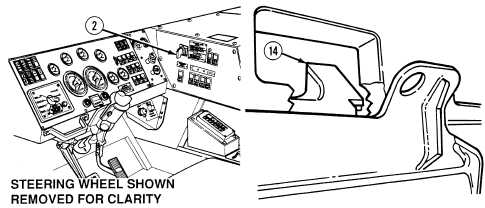 TM 9-2320-364-10
2-322     
Engine speed must be at idle before using hydraulic selector
switch or damage to equipment may result.
NOTE
Hydraulic selector switch must remain in MAN TRANS
while truck is traveling.
(16)
Turn hydraulic selector switch (2) to MAN TRANS.
NOTE
If load locks do not engage, raise flatrack slightly and
lower again.  Flatrack should seat completely and engage
load locks.
(17)
Inspect that load locks (14) are engaged and flatrack is fully loaded on
truck.