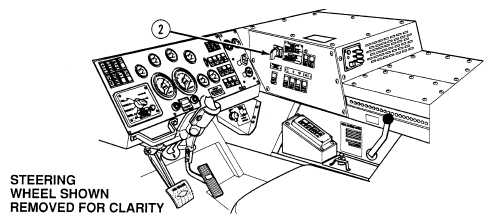 TM 9-2320-364-10
2-324     
2-29.  LOAD HANDLING SYSTEM (LHS) (CONT).
Set engine speed at idle before selecting LHS mode or
damage to equipment may result.
NOTE
When loading or unloading flatrack from dock or bay area
presence of rollers on rear of flatrack will aid in
operation.  Procedure can be accomplished using
hydraulic selector switch in AUTO or MAN H.A. and
MAN M.F. operation.  Refer to Para 2-29d and e for
movement of LHS in MANUAL mode.
(3)
Turn the hydraulic selector switch (2) to MANUAL or AUTO as required.