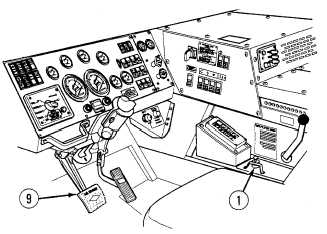 TM 9-2320-364-10
2-327
If flatrack does not move freely, do not attempt to drag any
further or damage to equipment may occur.
NOTE
If flatrack is misaligned, perform Step (8).
(8)
Lift flatrack 6 to 12 in. (15 to 30 cm) and attempt to drag flatrack forward
6 to 8 ft. (18 to 24 m) until aligned with truck.
Flatrack must be in contact with rear roller assembly on rear
of truck before flatrack rear edge comes off loading bay or
dock.  Failure to contact rear roller assembly will overload
LHS components and may damage truck.
(9)
Release the service brake pedal (9) and allow truck to be pulled toward
dock or bay until approximately 6 in. (15 cm) away.
(10)
Apply the service brake pedal (9) and move joystick (1) to LOAD.