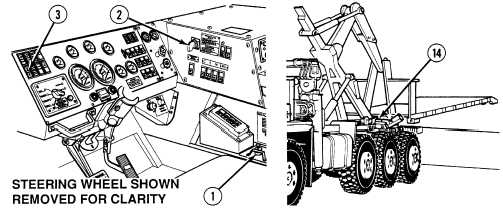 TM 9-2320-364-10
2-333
·
Engine speed must be at idle before using hydraulic selector
switch or damage to equipment may result.
·
Ensure rail transport locking pins are disengaged before
unloading flatrack.  Rail transport locking pins are used for rail
transport only.  Failure to comply may result in damage to
equipment.
(3)
Turn the hydraulic selector switch (2) to AUTO or MANUAL mode.
(4)
Move joystick (1) to UNLOAD.  Flatrack will raise and begin to move
rearwards.  LHS NO TRANS lamp (3) will illuminate to indicate load
locks (14) have been cleared.
·
Do not back truck to push flatrack onto dock or bay.  
Damage to equipment will result.
·
Do not use Reverse (R) to back up truck while hook arm is
attached to flatrack or damage to LHS will occur.
(5)
As load continues rearward, flatrack will contact dock and flatrack will be
pushed rearward onto dock or bay.
(6)
Release the joystick (1).