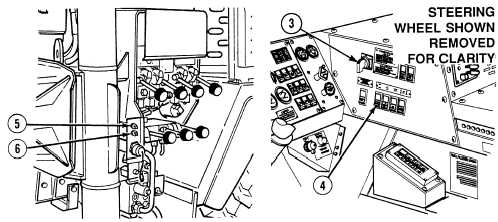 TM 9-2320-364-10
2-338     
2-30.  MATERIAL HANDLING CRANE (MHC) OPERATION
(MANUAL CONTROLS) (CONT).
When operating truck at speeds of 55 mph (89 km/hr) with
windows down, or when operating crane, hearing protection
must be worn or hearing loss may result.
(5)
Push the SRW/CRANE switch (4) to the CRANE position for crane
operation.
Engine speed must be at idle before using hydraulic selector
switch or damage to equipment may result.
(6)
Set the hydraulic selector switch (3) to CRANE/SRW position.
(7)
Set the CRANE MAIN POWER switch (5) to ON position.
(8)
Push the ENGINE HIGH IDLE LATCH switch (6) to LATCH and release.