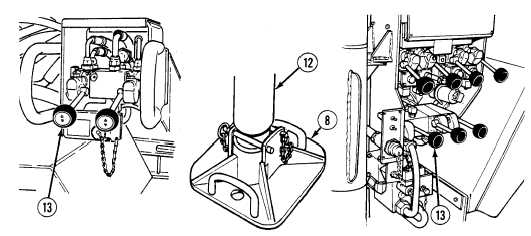 TM 9-2320-364-10
2-340     
2-30.  MATERIAL HANDLING CRANE (MHC) OPERATION
(MANUAL CONTROLS) (CONT).
·
Always use outrigger jack control valve on the same side
of the truck as the outrigger jack is being extended or
serious personnel injury or death may result.
·
Keep hands and feet away from outrigger jack cylinders
and outrigger pads while operating outrigger jack levers to
avoid injury to personnel.
NOTE
·
Adjust outrigger pad position as required so ball end will lower
into pad socket.
·
Outrigger jacks will come down slower with light pressure
on lever.  Pushing lever to full travel will cause faster
movement.
(6)
Move left outrigger jack (LH O/R JACK) control lever (13) (on left side of
truck) to DOWN position and lower outrigger jack cylinder (12) until ball
end is seated in outrigger pad (8).