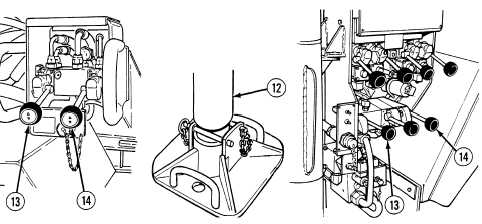 TM 9-2320-364-10
2-342     
2-30.  MATERIAL HANDLING CRANE (MHC) OPERATION
(MANUAL CONTROLS) (CONT).
Outrigger jack cylinders must be extended to remove enough
weight from the suspension so that the tires do not bulge, or
truck could roll over, causing serious injury or death.
NOTE
·
Operate left and right outrigger jack (LH O/R JACK and
RH O/R JACK) control levers at same time.
·
Crane movement from one lever may be slower than the
other when operating two levers together.
·
Truck weight should be off suspension at least until tires
do not bulge from weight of truck.
·
Outrigger jacks must properly support truck or crane
functions will not operate.
·
If outrigger jacks depress into ground beyond outrigger
pad retaining pins, reposition truck.
(10)
Move left outrigger jack (LH O/R JACK) and right outrigger jack (RH O/R
JACK) control levers (13) and (14) to DOWN position.  Lower left and
right outrigger jack cylinders (12) until truck weight is off suspension.
Extend jacks individually as necessary to level the truck side-to-side.