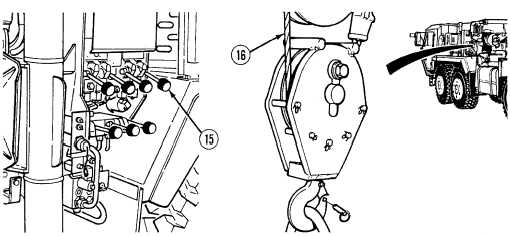 TM 9-2320-364-10
2-343
c.
Raise and Operating Crane.
·
Do not operate crane unless both outrigger jacks are
properly set up.  Truck could turn over causing serious
injury or death.
·
Operator should be stationed to be able to see load at all
times during crane operation.  Operate crane from RH or
LH remote control station if load is not visible from main crane
control panel.  Boom and load moving out of control could
cause serious injury or death.
Do not let cable unwind and become slack or cable may get
tangled on hoist drum.
NOTE
Crane will not operate unless outrigger jacks are firmly in
place.
(1)
Move HOIST control lever (15) to DOWN position and lower hoist
cable (16) approximately 4 in. (101.6 mm).