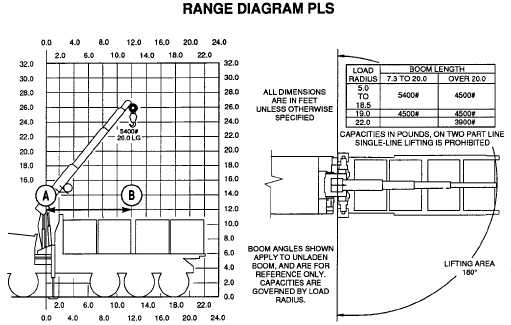 TM 9-2320-364-10
2-350     
2-30.  MATERIAL HANDLING CRANE (MHC) OPERATION
(MANUAL CONTROLS) (CONT).
Do not attempt to lift more than maximum load rating as
shown in RANGE DIAGRAM.  Exceeding load ratings will
cause damage to equipment.
NOTE
·
Boom length is indicated on side of boom as it is extended.
·
Load radius is measured from MHC pivot point to load hook.
(Measurement must be taken parallel to truck, point A to point
B.)
·
Numbers along top and bottom of diagram refer to load radius.
Numbers along side of diagram refer to working height.  For
example:  Boom length is at 20 ft. (6 m) as indicated on side of
boom.  Load radius is 12 ft. (4 m) as measured from point A to
point B.  Chart on right indicates a maximum lift of 5,400 lbs.
(2,452 kg).
(10)
Refer to RANGE DIAGRAM data plate above RH Crane Control Panel to
move boom to correct load radius before connecting to load.