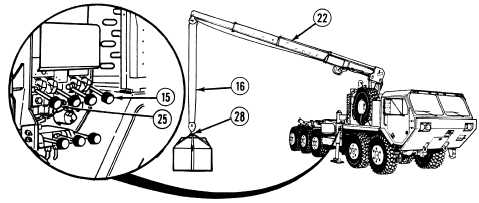 TM 9-2320-364-10
2-351
d.
Raise and Lower Load.
·
Ensure that area is clear of personnel before moving SWING
control lever.  Boom should be swung slow enough so crane
operator has complete control.  If operator cannot see load
during operation, operate crane from REMOTE CONTROL
UNIT.  Boom moving out of control could cause serious injury
or death.
·
Load hook must not extend beyond attaching point of load.
When lifting load, boom will deflect slightly and load radius
will increase depending on length of boom and weight of load.
Boom deflection may cause load to swing out and cause injury
or death to personnel and/or damage to equipment.
·
Do not let cable become slack or cable may get tangled on
drum.
·
Do not drag load on ground or damage to crane may result.
(1)
Operate the SWING control lever (25) and center end of boom (22) directly
over load.
(2)
Operate the HOIST control lever (15) to raise or lower hoist cable (16) and
connect load hook (28) to load.