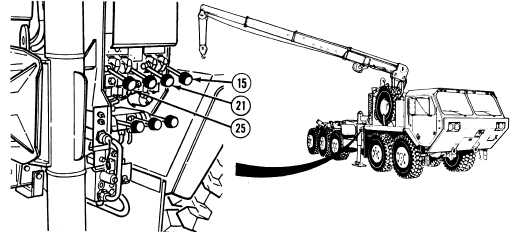 TM 9-2320-364-10
2-352     
2-30.  MATERIAL HANDLING CRANE (MHC) OPERATION
(MANUAL CONTROLS) (CONT).
Ensure there are at least two wraps of cable on hoist drum at
all times.  Serious injury or death could result if cable comes
off hoist drum while lifting load.
·
Do not jerk HOIST control lever or load will bounce causing
possible damage to crane or load, and causing overload
shutdown to operate.
·
Use the PLS range diagram and know the weight of the load
before hoisting the load, or equipment damage may result.