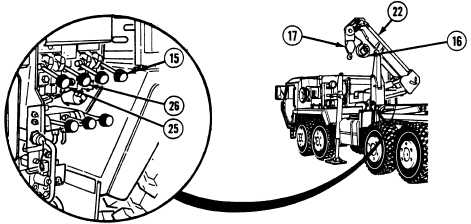 TM 9-2320-364-10
2-354     
2-30.  MATERIAL HANDLING CRANE (MHC) OPERATION
(MANUAL CONTROLS) (CONT).
e.
Shut Down Crane.
·
If the crane main power switch has been temporarily turned
OFF following crane operations, repower the crane and reset
engine high idle according to instructions (Para 2-30a).
Otherwise, proceed as follows:
·
Leave approximately 2 ft. (0.61 m) of cable between boom
sheave and hook block when reeling in cable or damage to
equipment could result.
·
Do not let cable unwind and become slack or cable may get
tangled on drum and cause damage to drum.
NOTE
TELESCOPE and HOIST control levers should be
operated at same time.
(1)
Move the TELESCOPE control lever (26) to IN position to pull boom
extensions (22) in and move HOIST control lever (15) to UP position to
reel in hoist cable (16) until boom extensions are fully retracted and load
hook (17) hangs approximately 8 in. (203.2 mm) below boom nose.
(2)
Operate the SWING control lever (25) to align hook block with hook block
tiedown.