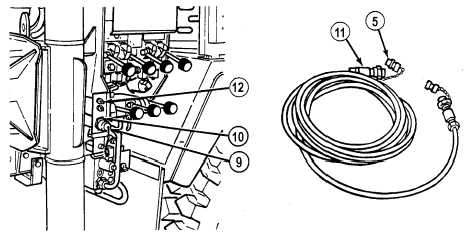 TM 9-2320-364-10
2-365
·
Ensure REMOTE CONTROL/EMERGENCY
STOP/ON/OFF power switch is in OFF position, switch
guard is closed, control levers rotate freely and are in the
neutral position before connecting REMOTE
CONTROL UNIT.  Crane moving out of control could
cause serious injury or death.
·
If electrical power fails during crane operation, move
switch on REMOTE CONTROL UNIT to SHUTDOWN
position.  Serious injury could result from uncontrolled
moving parts.
NOTE
Idle speed will decrease when REMOTE CONTROL
UNIT is plugged in.
(2)
Connect the cable connector (11) to RH REMOTE CONTROL
CONNECTOR outlet (10).
(3)
Connect the cover (9) of RH REMOTE CONTROL CONNECTOR outlet
(10) to the cover (5) from cable connector (11).
(4)
Ensure crane power switch (12) is ON.