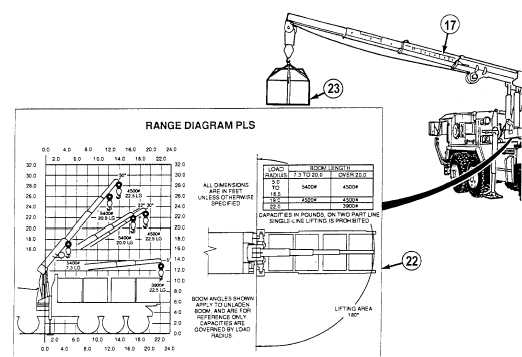 TM 9-2320-364-10
2-372     
2-31.  MATERIAL HANDLING CRANE (MHC) OPERATION
(REMOTE CONTROLS) (CONT).
·
Do not attempt to lift more than maximum load rating as shown
on RANGE DIAGRAM.  Exceeding load ratings could cause
damage to equipment.
·
Operator must keep control of load at all times.  If necessary,
attach cargo tie down straps to load for use as a control tether.
Load moving out of control could cause serious injury or death.
NOTE
Refer to the RANGE DIAGRAM data plate above RH
Crane Control Panel or rear of left front fender.
(4)
Move boom (17) to correct radius as shown on data plate (22) before
connecting to load (23).