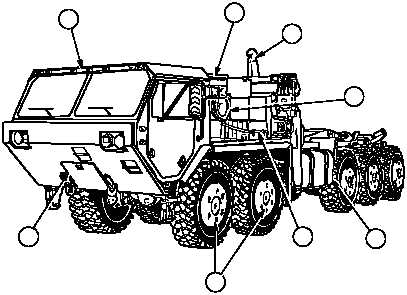 TM 9-2320-364-10
1-12     
1-10.  LOCATION AND DESCRIPTION OF MAJOR
COMPONENTS.
Major components and accessories found on PLS are illustrated and described below.
1.
PERSONNEL CAB.

 

Provides protection from weather for crew and truck
controls, gages and indicators.
2

.
FRONT ACCESS COVER.

 

Provides access to hydraulic pumps, arctic
heater and air reservoir.
3.
ENGINE COMPARTMENT.

 

Engine supplies power to move truck and
operate equipment and accessories.
4.
AIR CLEANER.

 

Filters out dust and debris from air entering air induction
system.
5.
MAIN FUEL TANK.

 

Stores fuel used to operate engine.  Receives excess
fuel not used by engine's fuel injection system.
6.
BATTERY BOX.

 

Houses and protects four storage batteries.
7.
AXLES NO. 1 AND 2.

 

Controls direction of truck when in motion.
Transmits power to hubs to turn wheels.
8.
LOAD HANDLING SYSTEM (LHS).  

Loads/unloads flatrack on truck and
Palletized Load System Trailer (PLST).
5
4
8
3
1
2
6
7