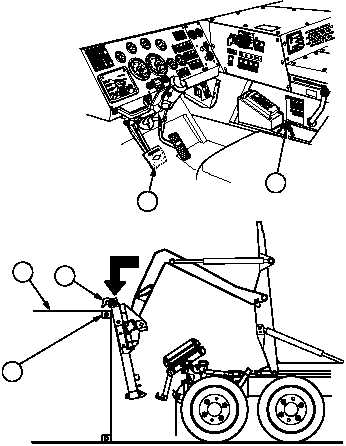 TM 9-2320-364-10
2-416     
2-33.  LOADING AND UNLOADING CONTAINER (82 INCHES
(208 CM) OR TALLER) TO PLS TRUCK USING LIFTING
FRAME (LF) (CONT).
Do not allow lifting frame to contact the ground when slide arm
upper front hooks are not engaged with container upper corner
castings.  Failure to comply may result in damage to equipment and
injury or death to personnel.
(25)
Release service brake pedal (4) and slowly back up to approximately 12 in.
(30 cm) from front of container (6).
(26)
Apply service brake pedal (4), move joystick (8) to LOAD and raise lifting
frame until front hooks (15) are above container upper front corner castings
(16).
STEERING
WHEEL SHOWN
REMOVED FOR CLARITY
16
15
4
6
8