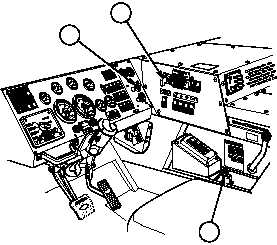 TM 9-2320-364-10
2-428     
2-33.  LOADING AND UNLOADING CONTAINER (82 INCHES
(208 CM) OR TALLER) TO PLS TRUCK USING LIFTING
FRAME (LF) (CONT).
(46)
Release joystick (8).
(47)
Pull out parking brake knob (3) to apply parking brake.
·
Engine speed must be at idle before using hydraulic selector
switch or damage to equipment may result.
·
Hydraulic selector switch must be in the OFF position before
driving truck or hydraulic system could overheat.
(48)
Turn hydraulic selector switch (7) to OFF.
(49)
Shut off engine (Para 2-23).
STEERING
WHEEL SHOWN
REMOVED FOR CLARITY
3
7
8