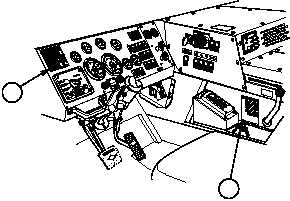 TM 9-2320-364-10
2-442     
2-33.  LOADING AND UNLOADING CONTAINER (82 INCHES
(208 CM) OR TALLER) TO PLS TRUCK USING LIFTING
FRAME (LF) (CONT).
NOTE
The amount of time to load and unload is controlled by
engine speed.  Engine speed can be increased to
approximately 1500 rpm to reduce loading and unloading
times.
(25)
Move joystick (8) to LOAD position until LHS is fully retracted and lifting
frame (1) is positioned on bumper supports (25).  LHS NO TRANS lamp
(21) will go out indicating LHS is in transport position.
(26)
Release joystick (8).
25
1
8
21
STEERING
WHEEL SHOWN
REMOVED FOR CLARITY