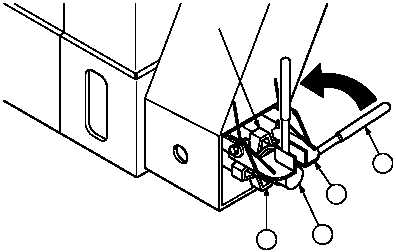 TM 9-2320-364-10
2-461
Ensure lower container locks are fully engaged with container
lower front corner castings.  Failure to comply may result in
damage to equipment.
NOTE
·
To get container lock handle to rotate, it may be necessary to
loosen handnut.
·
There are two lower container locks.  Right side shown.
·
After tightening handnut, it may be necessary to loosen handnut
slightly to align tab with handle lock plate.
·
Ensure lower container lock handle is secured in slot on handle
lock plate.
(35)
Hold handle lock plate (19) up and rotate lower container lock handle (20)
up in the locked position.
(36)
Turn handnut (25) clockwise and tighten stem (26).
LOCKED
19
20
25
26
TAB