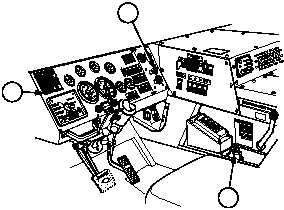 TM 9-2320-364-10
2-468     
2-34.  LOADING AND UNLOADING CONTAINER (72 INCHES
(183 CM) TALL) TO PLS TRUCK USING LIFTING
FRAME (LF) (CONT).
NOTE
Engine speed may be increased and decreased to ease
loading.
(45)
After container (6) contacts rear sliders (21), increase engine speed to
approximately 1500 rpm until container is almost loaded.  Reduce engine
speed to idle.
(46)
Continue loading until container (6) is fully loaded and LHS NO TRANS
lamp (27) goes out.
(47)
Release joystick (8).
(48)
Pull out parking brake knob (3) and apply parking brake.
STEERING
WHEEL SHOWN
REMOVED FOR CLARITY
6
21
3
8
27