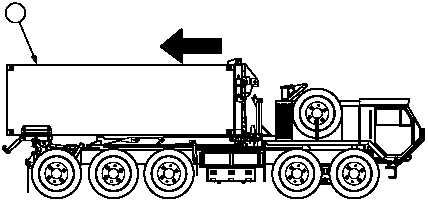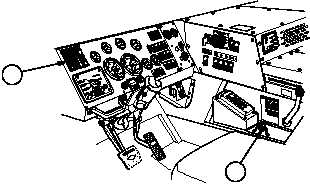 TM 9-2320-364-10
2-474     
2-34.  LOADING AND UNLOADING CONTAINER (72 INCHES
(183 CM) TALL) TO PLS TRUCK USING LIFTING
FRAME (LF) (CONT).
When loading or unloading containers on uneven ground (side
slope up to 5 degrees and downgrades up to 20 percent), it may be
necessary to apply truck service brakes to prevent truck roll away or
severe injury or death could result.
NOTE
LHS will not operate and unload if rear container locks are
engaged.
(8)
Move joystick (8) to UNLOAD. Container (6) will start to move rearward.
LHS NO TRANS lamp (27) will illuminate.  Maintain engine speed at idle
until front of container raises approximately 12 in. (30 cm).
27
8
6
STEERING
WHEEL SHOWN
REMOVED FOR CLARITY