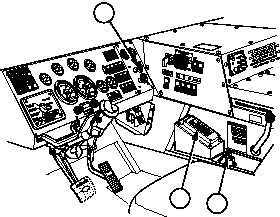 TM 9-2320-364-10
2-482     
2-34.  LOADING AND UNLOADING CONTAINER (72 INCHES
(183 CM) TALL) TO PLS TRUCK USING LIFTING
FRAME (LF) (CONT).
(23)
Release joystick (8).
(24)
Move truck forward until rear of truck is approximately 9 ft. (2.75 cm) in
front of container.
(25)
Move joystick (8) to unload position until lifting frame is positioned
approximately 12 in. (30 cm) off of the ground.
(26)
Set transmission range selector (5) to Neutral (N) and pull out parking brake
knob (3) to apply parking brakes.
·
On steep downgrades, contact is possible between the lifting
frame lower legs and the rear sliders during empty LHS cycles.
If contact appears likely, switch hydraulic selector to MAN H.A.
and retract (LOAD) hook arm a few inches.  Switch hydraulic
selector to MAN M.F. and retract the mainframe until the lifting
frame clears the rear sliders.  Return hydraulic selector to AUTO
and continue (LOAD) operation.  Failure to comply may result
in damage to equipment.
·
Never drive with LHS NO TRANS lamp illuminated.  An
illuminated lamp means that the LHS is not fully stowed.
Failure to comply may result in damage to equipment.
STEERING
WHEEL SHOWN
REMOVED FOR CLARITY
3
5
8