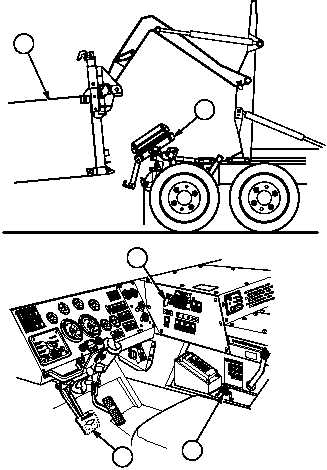 TM 9-2320-364-10
2-508     
2-35.  LOADING AND UNLOADING CONTAINER (51 INCHES
(130 CM) TALL) TO PLS TRUCK USING LIFTING
FRAME (LF) (CONT).
NOTE
·
LHS overload lamp may illuminate when lifting container from
unusual conditions.
·
As load is lifted, truck will be pulled under container.  Some
steering wheel adjustment may have to be made to ensure that
container contacts rear sliders correctly and is between guides.
(41)
As container (6) contacts rear sliders (19), reduce engine speed to idle and
apply service brake pedal (4).
STEERING
WHEEL SHOWN
REMOVED FOR CLARITY
4
7
8
6
19