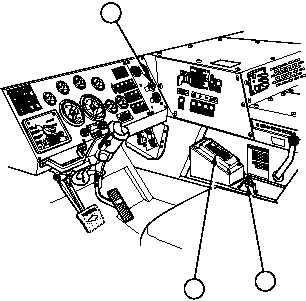 TM 9-2320-364-10
2-525
(23)
Release joystick (8).
(24)
Move truck forward until rear of truck is approximately 9 ft. (2.75 m) in
front of container.
(25)
Move joystick (8) to unload position until lifting frame is positioned
approximately 2 in. (30 cm) off of ground.
(26)
Set transmission range selector (5) to Neutral (N) and pull out parking brake
knob (3) to apply parking brakes.
STEERING
WHEEL SHOWN
REMOVED FOR CLARITY
3
5
8