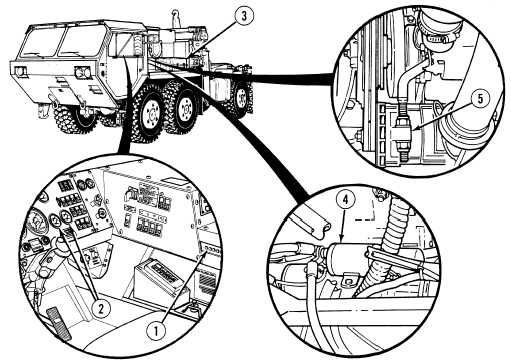 TM 9-2320-364-10
1-27
Section III.  PRINCIPLES OF OPERATION
1-12.  SYSTEMS INTRODUCTION.
This section provides a basic explanation of major systems on the PLS.  Detailed
operation information is provided in Chapter 2.
1-13.  ELECTRICAL SYSTEM.
The 24 vdc electrical system is waterproof, has reverse polarity protection and
incorporates a 12 vdc lighting subsystem.  Manual resetting circuit breakers (1) are used
throughout system and all circuits are identified.  Voltages for the electrical system are
indicated by voltmeters (2) located on the dash panel inside the drivers compartment
(there are two gages, one for 12-volt and one for 24-volt).  Circuit breakers located in
the cab protect the main circuits.  Electrical power is provided by four 12-volt
series-parallel connected batteries (3).  A heavy duty starting motor (4) is mounted on
the engine flywheel housing and provides cranking power necessary for starting the
engine.  The 145 amp or 200 amp alternator (5) maintains battery charging and electrical
equipment operation.