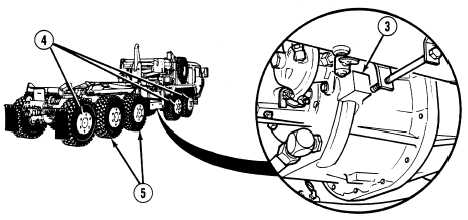 TM 9-2320-364-10
1-28     
1-14.  ENGINE AND DRIVETRAIN.
The truck is equipped with a eight cylinder, V type, two cycle, fuel injected,
electronically controlled, turbocharged diesel engine (1).  This engine is rated at 500 HP
and has a five speed push button automatic transmission (2).  The truck transfer case (3)
has two speeds and a 30/70 differential.  The truck has ten wheel drive capability with
five driving axles.  Axles No. 1, 2 and 5 (4), drive and steer.  Axles No. 3 and 4 (5) are
drive axles only.