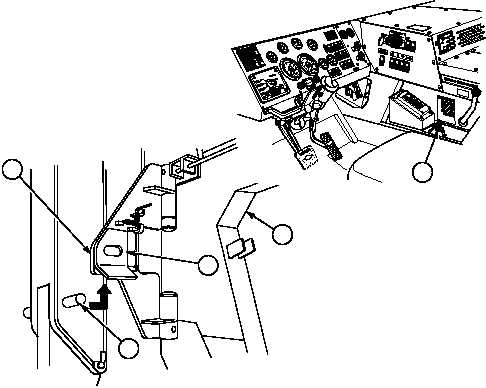 TM 9-2320-364-10
2-588     
2-38.  RETURNING PLS TRUCK TO FLATRACK MODE (CONT).
·
Lifting frame weighs 1,600 lbs. (725 kg).  Personnel must stay
clear when installing or removing lifting frame to LHS hook arm
hook.  Failure to comply may result in injury or death to
personnel.
·
Ensure lifting frame is free of snow, ice, and mud when
installing on LHS.  Lifting frame may be unbalanced and may
cause injury or death to personnel.
NOTE
For detailed instructions on how to operate the LHS on the
truck, refer to (Para 2-29a.) "LHS Controls and
Indicators", (Para 2-29b.) "Picking-up a Flatrack in Auto
Mode", and (Para 2-29c.) "Off-Loading Flatrack in Auto
Mode".
(51)
Start engine (Para 2-15).
(52)
Move joystick (3) to UNLOAD until LHS stops and pivot pin (45) is below
flipper bracket (46) and flipper bracket lock plate (44) on lifting frame (1).
1
46
45
44
3
STEERING
WHEEL SHOWN
REMOVED FOR CLARITY