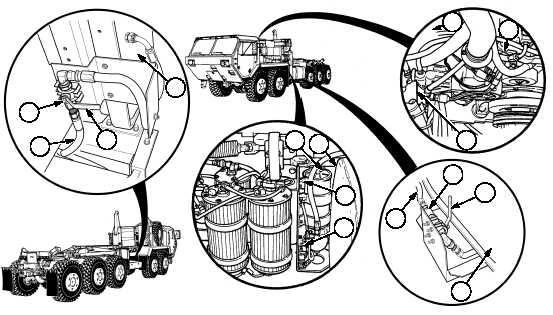 6
5
2
7
1
1
4
9
10
12
13
11
9
3
8
TM 9-2320-364-10
1-33
1-18.  FUEL SYSTEM.
Fuel is drawn from the main fuel tank (1), passes through the electrical priming fuel
pump (2) and the fuel/water separator (3).  A fuel shut off valve (4) controls the flow of
fuel to the engine.  A mechanical fuel pump (5) pumps the fuel through the secondary
filter (6) to the engine (7).  Excess fuel from the engine is returned to the main fuel tank
through the return line.  The fuel/water separator removes water and large solid particles
from the fuel.  The smaller particles are removed by a secondary filter before they can
enter the engine fuel injectors.
Trucks equipped with an auxiliary fuel tank (8) will bottom fill the main fuel tank (1)
through a crossover fuel line (9) found under the truck.  Shutoff valves (10) and (11)
between the tanks shut off fuel flow during filling and side slope operations.  Check
valves (12) and (13) prevent fuel spilling if crossover line is damaged.