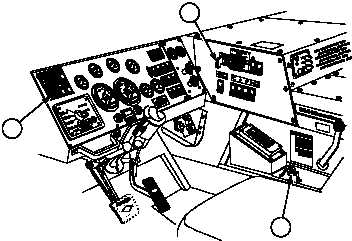 TM 9-2320-364-10
2-599
Engine speed must be at idle before using hydraulic selector
switch, or damage to equipment may result.
(6)
Turn hydraulic selector switch (5) to AUTO.
On steep downgrades, contact is possible between the lifting
frame lower legs and the rear sliders during empty LHS
cycles.  If contact appears likely, switch hydraulic selector to
MAN H.A. and retract (LOAD) hook arm a few inches.
Return hydraulic selector to AUTO and continue (UNLOAD)
operation.  Repeat as required.  Failure to comply may result
in damage to equipment.
(7)
Move joystick (6) to UNLOAD. Hook arm will raise and begin to move
rearward.  LHS NO TRANS lamp (7) will illuminate to indicate hook arm
is up and load lock has been cleared.
7
STEERING
WHEEL SHOWN
REMOVED FOR CLARITY
5
6