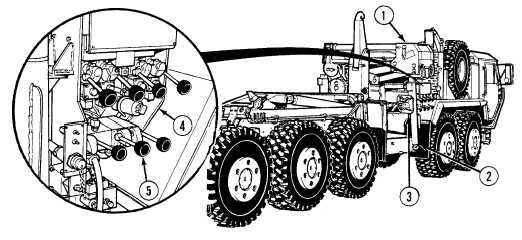 TM 9-2320-364-10
1-34     
1-19.  MATERIAL HANDLING CRANE (MHC).
a.
Crane.

 

The truck MHC (1) is fully hydraulic and is powered by the truck hydraulic
system.  The MHC is capable of lifting up to 5,400 lb. (2,449 kg) load at a 16.5 ft. (5 m)
radius and a 3,900 lb. (1,770 kg) load at a 22 ft. (6.7 m) radius.  The crane can load/unload
pallets from either side of the truck.  Truck stability and leveling is accomplished with the
left and right side hydraulically operated outrigger jacks (2).  Jacks can level the truck
when it is inclined up to a seven percent side slope.  The outrigger pads (3) are attached

to
the outrigger jacks by means of retaining pins and are stowed on the crane base.  The

pads
swivel 360 degrees when installed on the jacks.  Safety switches are installed in the
outrigger jacks to prevent crane operations until the outrigger jacks are set in place.
b.
Fixed Controls.

All crane controls and indicators (4) are located on the
passenger side of the truck.  The controls are accessible to the operator while standing
on the ground.  Control valves, both crane and outrigger jack, automatically return to the
neutral position should operator inadvertently or intentionally release control.  The
outrigger jacks (2) can be controlled from either side of the truck with outrigger jack
controls (5).  Outrigger jack manual control valves are also duplicated on the driver's
side of truck.