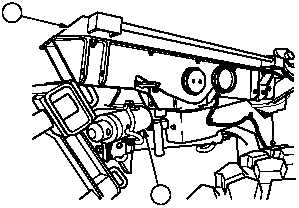 TM 9-2320-364-10
2-621
(7)
Ensure sliders (11) and struts (12) are in stowed (flatrack mode) position,
refer to (Para 2-38).
·
Check for overhead power lines or other obstructions before
attempting LHS operations.  LHS reaches a height of 17 ft. 2 in.
(5.22 m).  Injury or death could result if LHS contacts power
lines.
·
Use caution when working around lifting frame.  Lifting frame
may swing unexpectedly when not attached to container.
Failure to comply may result in injury or death to personnel.
Engine speed must be at idle before using hydraulic selector
switch, or damage to equipment may result.
NOTE
For detailed instructions on how to operate the LHS on the truck,
refer to (Para 2-29a.)

"LHS Controls and Indicators", (Para 2-29b.)
"Picking-up a Flatrack in Auto Mode", and (Para

2-29c.)
"Off-loading a Flatrack in Auto Mode"

.
(8)
Start engine (Para 2-15).
12
11