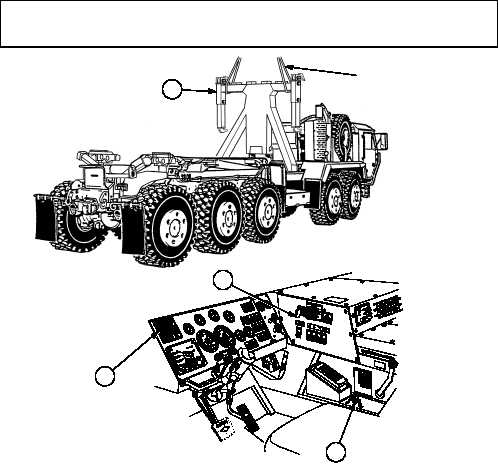 TM 9-2320-364-10
2-622     
2-41.  PREPARING PLS TRUCK WITH LIFTING FRAME FOR AIR
TRANSPORT (CONT).
·
Do not allow lifting frame to contact the ground.  Failure to
comply may result in the lifting frame disengaging the LHS
hook arm which could result in damage to equipment and injury
or death to personnel.
·
Lifting frame and hook weigh 1750 lbs. (793 kg).  Attach
suitable lifting device prior to removal or installation to prevent
possible injury to personal.
(9)
Attach lifting device to lifting frame (10).
(10)
Turn hydraulic selector switch (13) to AUTO.
(11)
Move joystick (14) to UNLOAD.  Hook arm will raise and begin to move
rearward.  LHS NO TRANS lamp (15) will illuminate to indicate hook arm
is up and load lock has been cleared.
STEERING
WHEEL SHOWN
REMOVED FOR CLARITY
14
13
15
10
LIFTING

DEVICE