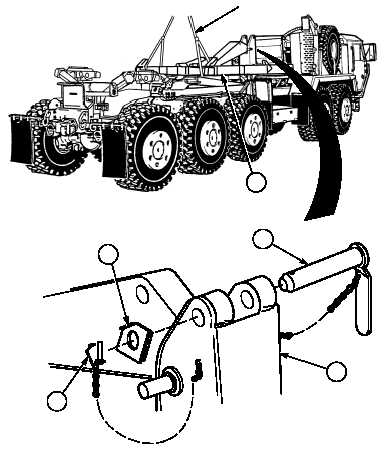 TM 9-2320-364-10
2-626     
2-41.  PREPARING PLS TRUCK WITH LIFTING FRAME FOR AIR
TRANSPORT (CONT).
b.
Preparation After Transport.
·
Use caution when working around lifting frame.  Lifting frame
may swing unexpectedly when not attached to container.
Failure to comply may result in injury or death to personnel.
·
Lifting frame and hook weigh 1700 lbs. (772 kg).  Attach
suitable lifting device prior to removal or installation to prevent
possible injury to personal.
(1)
Attach lifting device to lifting frame (10).
(2)
Remove lock pin (17), retaining bracket (18) and LHS hook arm retaining
pin (16) from LHS hook arm (19).
16
17
18
19
10
LIFTING DEVICE