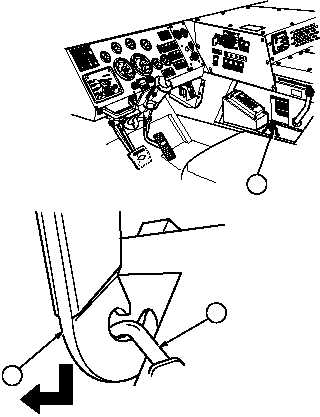 TM 9-2320-364-10
2-636     
2-42.  REMOVING AND INSTALLING LIFTING FRAME FROM PLS
TRUCK IN CONTAINER MODE (CONT).
(17)
Start engine (Para 2-15).
NOTE
·
To disengage LHS hook arm from lifting frame hook it may be
necessary to cycle LHS to unload after driving ahead slightly.
·
If ground is soft, jacking plate from truck BII or similar item
may be positioned under support leg pad to prevent lifting frame
from sinking in ground.
(18)
Move joystick (3) to UNLOAD until LHS stops and hook (14) is below
lifting frame hook bar (15).
(19)
Drive truck ahead approximately 12 in. (30 cm).
(20)
Shut off engine (Para 2-23).
STEERING
WHEEL SHOWN
REMOVED FOR CLARITY
14
15
3