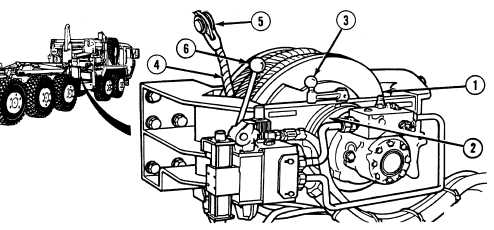 TM 9-2320-364-10
1-40     
1-24.  SELF-RECOVERY WINCH KIT (SRW).
When specified, the truck is equipped with a SRW (1) which is capable of forward and
rearward deployment.  The winch is equipped with a holding brake (2) to safely deploy
and hold a full rated load of winch.  The winch brake is automatic and is fully engaged
anytime the winch is stopped or not in use.  It is fully released during operation.  A
clutch (3) allows for the manual unspooling of the winch.  The cable (4) is equipped
with a clevis end (5).  The winch is controllable from the driver's position with cab
controls and at the winch itself with a manual control lever (6).  All controls revert to
neutral when released.