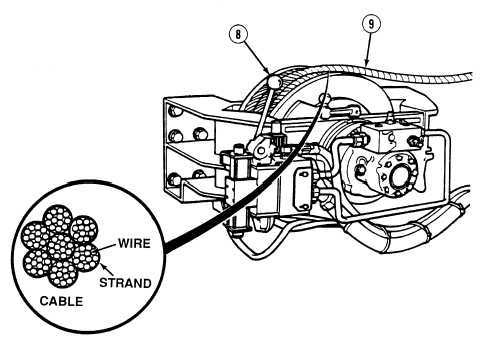 TM 9-2320-364-10
2-680     
2-45.  SELF-RECOVERY WINCH (SRW) (CONT).
(21)
Push the winch control lever (8) forward or use free spooling of winch to
pay out cable until cable reaches tree, another heavy truck, or stationary
heavy object.
(22)
Release winch control lever (8).
NOTE
The cable is not fully mission capable if:  cable has more
than three broken wire per inch on same strand, or cable
has more than six broken wires on all strands in a one in.
running length of cable.  The maximum number of broken
wires shall not occur in any two consecutive inches of
cable.  For example, if six wires are broken in one in. of
cable, none would be allowed in the next consecutive in.
(23)
Check cable (9) for broken wires and kinks.  If in doubt, notify Unit
Maintenance.