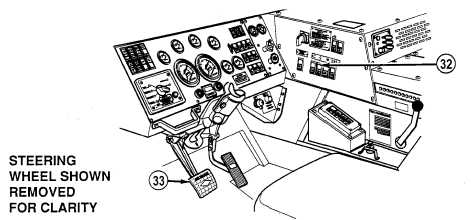 TM 9-2320-364-10
2-686     
2-45.  SELF-RECOVERY WINCH (SRW) (CONT).
Keep all personnel clear of area near cable when tension is on
cable.  If cable breaks, it can cause severe injury or death.
If winch does not move the truck, stop using winch, overheat
damage may occur.
NOTE
Ensure free spooling lever is in the ENGAGED position.
(39)
Push WINCH IN/OUT switch (32) to IN until slack is out of cable.
(40)
Release WINCH IN/OUT switch (32).
(41)
Apply service brake pedal (33).
Self-recovery winch is not designed to winch mired truck by
itself.  Truck drive system power must always be used with
winch to self-recover the truck, or damage to equipment can
result.