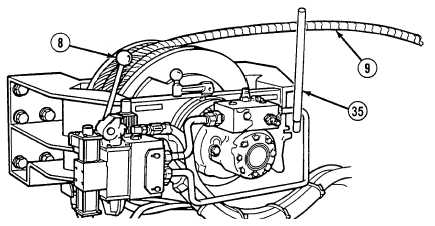 TM 9-2320-364-10
2-690     
2-45.  SELF-RECOVERY WINCH (SRW) (CONT).
·
Do not use winch to reel clevis end of cable through roller
guides.  Clevis may catch on roller guide and cause cable or
roller guide to break.  Broken cables or roller guides can cause
serious injury or death.
·
Keep all personnel clear of winch area when winch is reeling in
cable.  If hands are caught in winch or cable, or  if cable breaks
under tension, severe injury or death could occur.
(62)
Push winch control lever (8) to the rear.
(63)
Reel in cable (9).  Remove extension handle (35) from stowage box and use
extension handle to guide cable (9) onto winch so cable wraps are level
across face of winch.
(64)
When end of cable (9) is near front of truck, release winch control lever (8).