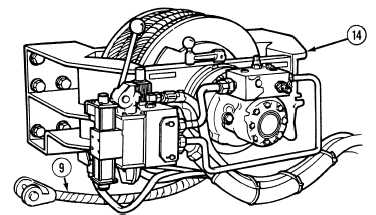 TM 9-2320-364-10
2-695
·
Always wear heavy gloves when handling cables.  Never let
cable run through hands; frayed cables can cut.  Never operate
winch with less than five wraps of cable on winch drum.
Serious injury or death could result if cable comes off drum
while winching.
·
Avoid quick, jerking winch operation.  Keep other personnel
well away from truck involved in winching operation.  A
snapped cable or shifting load can cause serious injury or death.
NOTE
Free spooling lever must be in the DISENGAGE position
to pull cable by hand.
(13)
Pull cable (9) under winch (14) toward rear of truck.