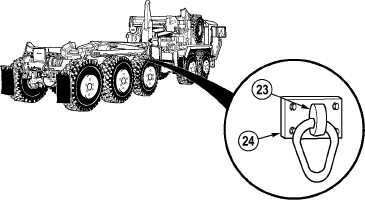 TM 9-2320-364-10
2-698     
2-45.  SELF-RECOVERY WINCH (SRW) (CONT).
Avoid quick, jerking, winch operation.  Keep other personnel
well away from trucks involved in winching operations.  A
snapped cable or shifting load can cause serious injury or
death.
Do not exceed winch pull capacity or winch may be damaged.
(20)
If SRW has trouble with pull, stop using SRW and notify Unit Maintenance.
See pull capacity Table 2-8 (Para 2-45).
When attaching cable to another truck, that truck must be used only as an
anchor point or damage to equipment can result.
NOTE
·
If snatch block must be used, refer to Para 2-45d.
·
If cable will be connected to truck or to another truck acting as
a stationary anchor, perform Steps (21) through (25).
(21)
Remove tow ring (23) from mounting plate (24).