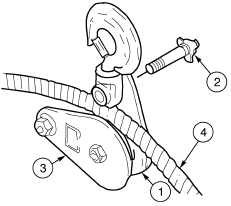 TM 9-2320-364-10
2-709
d.
Snatch Block.
(1)
Installation.
NOTE
The snatch block is used as a mechanical advantage when
the load resistance exceeds the capacity of the
self-recovery winch (SRW).
(a)
Remove snatch block (1) from stowage.
(b)
Remove screw (2) from snatch block (1).
(c)
Move plate (3) to side to open snatch block (1).
Always wear heavy gloves when handling cables.  Never let
cable run through hands; frayed cables can cut.  Failure to
comply may result in injury to personnel.
(d)
Position cable (4) in snatch block (1).
(e)
Close plate (3) and align holes on snatch block (1).
(f)
Install screw (2) in snatch block (1).
(g)
Ensure screw (2) is tight and cable (4) can move freely through snatch
block (1).
(h)
Continue with self-recovery operations.