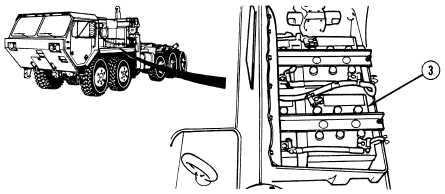 TM 9-2320-364-10
2-713
(5)
Check cooling system often.  If any of the following conditions are found,
notify Unit Maintenance:
(a)
Low coolant level in radiator.
(b)
Leaking hose connections which have been tightened but still leak.
(c)
Cracked or leaking hoses.
(d)
Radiator fins plugged with dust, leaves or insects.
NOTE
Batteries do not hold charge well in extreme heat.  Battery
will be tagged for use in tropical conditions and will have
a white circle printed on top.  Battery specific gravity
must be changed to adjust for heat (TM 9-6140-200-14).
(6)
Keep batteries (3) full, but do not overfill.
(7)
In hot, damp climates check body and chassis often and notify Unit
Maintenance if any of the following are found:
(a)
Signs of pitting or paint blistering on metal surfaces.
(b)
Signs of mildew, mold or fungus on fabrics or rubber.