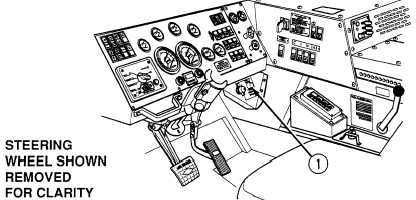 TM 9-2320-364-10
2-720     
2-50.  OPERATING TRUCK IN COLD ENVIRONMENT +45
DEGREES F TO –25 DEGREES F (+7 DEGREES C
TO –32 DEGREES C) (CONT).
NOTE
·
Before operating truck in severe cold environment, make sure it
has been prepared as described in FM 9-207.  Refer to FM
31-70, FM 31-71 and FM 21-305 for additional information on
operation in cold environment.
·
Perform Step (1):
– one time for temperatures between +45 degrees F to
+10 degrees F (+7 degrees C to –12 degrees C).
– two times for temperatures between +10 degrees F to
–10 degrees F (–12 degrees C to –23 degrees C).
– three times for temperatures between –10 degrees F to
–25 degrees F (–23 degrees C to –32 degrees C).
·
Repeat Steps (1) and (2) up to four times.
·
If engine fails to start, wait 15 seconds before next start attempt
to allow starter motor to cool.
(1)
Press and hold ether start switch (1) for five seconds, release and wait five
seconds.